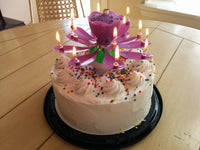 Amazing Birthday Parties Since 2011
They Really Do All This! Lotus Candles Bloom Like Flowers And Light Up. 14 Mini-Candles Light Up In A Shower Of Sparks. The Mini-Candles Rotate Round and Round! They Play Happy Birthday As They Spin!
Tens of thousands of birthday parties have been made ten times more memorable with Lotus Candles. They're show stoppers that really make the party happen! And they make the best birthday gifts!
Buy Now
See The Video
Watch them in action...
A picture is worth a thousand words, but a video is worth more! Lotus Candles simply have to be seen and heard to be believed...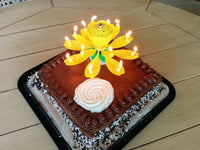 Why Lotus Candles
Lotus Candles will be the highlight and show stopper at your birthday parties. They will create memories to be remembered.
Make sure you have your cameras and cell phones ready and set to video mode. You'll want to see the show again and again.
We offer fast FREE shipping by first class mail from our Texas warehouse, usually reaching most of the USA in a few businss days.
Birthday parties only come once a year. Make them pop with Lotus Candles™!
Great Memories! Amazing Show! Better Birthday Parties! Fast FREE Shipping!
Buy Now
Fast Free Shipping anywhere in the usa!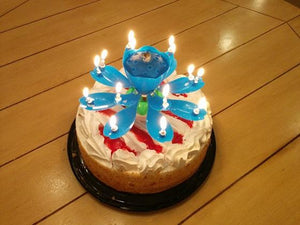 LIGHTS UP
When lit, Lotus Candles light up in a shower of sparks. 14 little mini-candles on the rose petals will light up at this time and amaze your guests!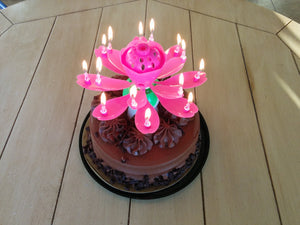 ROTATES
It's a spectacular show. Once lit, the mini-candles start rotating on the petals, going round and round. Has to be seen to be believed.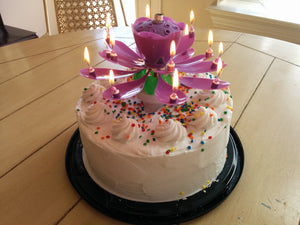 PLAYS HAPPY BIRTHDAY
Lotus Candles™ play the happy birthday tune after they light up, as they rotate. You'll never go back to plain old birthday candles anymore!
What Our Customers Are Saying
Love these candles!! I have 2 left and can't wait to use them!!!

- Melissa B, Drexel Hill, PA
Bought 3, so far 2 birthdays and big smiles from the birthday boys, it's made their celebration the life of the party!!

- Linda K, Lakeside, CA
Went to my 10 Yr. old Granddaughter's Birthday Party today and the Lotus Candle was a Smash ! Granddad was a Hero for 15 minute's !.

- Peter N, El Cajon, CA
Love them, just suprised my sister-in-law with one. They'd never seen them, so I gave her one to take home and suprise someone else.

- Diane B, Las Vegas, NV
Every time we use these candles people ask where we got them and we give them your website, Everybody loves them use them at every birthday family and friends. Thanks again.

- Jackie P, Rochester, NY
Got some for my 12 year old! Her and her friends thought it was so cool. Another successful party!

- Alexandra S, Atlantic City, NJ
I got 3 of them used 1 for my hubby's birthday and everyone loved it best thing ever.

- Tina S, Phoenix, AZ
Just wanted you to know how much my family enjoyed watching the candle open this last Saturday. It was such a hit with the grand kids (4 and 3). When the candle was lit their faces where priceless. Thank you for the great quality and the very fast shipping.

- Ginny P, Cary, IL
Yesterday was my birthday and my daughter made dinner for us. I took the red candle and surprised the grandchildren. Everyone LOVED it and requested same for their upcoming birthdays, so I'm ordering more today. Thanks!

- Donna C, Palmetto Bay, FL
How they work
* Just light the candle center with a match or lighter to start the fun!
* The candle will open up its petals and light all 14 mini-candles!
* Produces a beautiful center shower of sparks!
* Starts playing Happy Birthday and rotating!
* Two rows of petals and 14 candles - beautiful to look at!
* Petals designed to catch any wax from the mini-candles so it won't spill onto your cake
* Perfect for any birthday celebration!
Why you should buy authentic Lotus Candles® brand:
Birthday parties are important - they only come once a year, and the memories of a great one last a lifetime! Our candles are engineered not to disappoint when the big day comes, and to make all of them great.
Be very wary of imitations. Only this website (LotusCandles.com) sells genuine Lotus Candles® brand. Here's why you should go with us, not with some cheap knock off from somewhere else:
* Lotus Candles are guaranteed high quality. Our factories have been carefully selected to meet our exacting quality standards and rigorous product testing, as well as ISO9001 and CE certification standards.
* Our candles open up into two layers of petals with 14 mini-candles in total, rotate, and play the Happy Birthday tune. Most of the competition offers a cheap candle with a single layer of petals (7 - 9 mini-candles only), often non-rotating and/or non-musical.
* Many of our competitors cut costs by offering candles that melt and burn through the petals, with wax/plastic dripping onto the cake below. Lotus Candles don't do any of that!
* We are an American company and offer fast Free Shipping from our warehouse in Texas, reaching anywhere in the USA (including Puerto Rico, Hawaii, Alaska, Guam, all US territories and military addresses) in a few days' time in most cases. We know that our candles are key to many birthday celebrations and take pride in our shipping being rock-solid reliable besides being free.